In this lesson, I synthesize ideas from:
Tomo Fujita,
Troy Grady,
Tim Ferriss,
Josh Waitzkin, &
Eliyahu Goldratt…
…to fix an invisible bottleneck that constrains our picking speed: hand sync.
a system can only have one bottleneck at any given time, and
improving the system in an area that's not the bottleneck doesn't improve the system overall.
In other words, if we want to improve, we need to identify the true bottleneck and improve it.
"Picking" Speed Is Dependent On Fretting Speed
Recently I had the realization that it wasn't my picking that was the Theory Of Constraints bottleneck—it was the sync between my two hands.
Three things tipped me off to this:
my legato is sloppy (noisy/dynamically uneven)
frequently out of time
and/or my feel is uneven
I'm defining "feel" as:
1) where the the note is in relation to the beat—ahead, on, or behind
2) how pleasing the subdivisions sound—they needn't be mathematically perfect, only enjoyable to listen to.
We usually assume that legato is faster than picked, but… really, why would legato be faster than picked? After all, your fingertip has to hit the string harder for hammer-ons. And you have to have a tiny amount of friction to "pluck" the string on the pull-off.
So really, if we're not crossing strings, picking should always be faster than using legato.
If this isn't true, that suggests that either:
the hands aren't together
or there's a fundamental inefficiency to the picking motion—the pick is getting hung up on the string somehow.
Legato Solutions
I remember someone on the Cracking The Code forum got surgery on his picking hand and spent a few months playing legato-only. He recommended it highly.
But I wanted something that was more focused & constrained than "play fretting-hand-only over some backing tracks."
Tomo Fujita: Legato Chromatic Exercise
Then I remembered Tomo Fujita's chromatic exercise.
it's intricate, it's single-string, it lends itself well to practicing many days in a row
he repeats this pattern, ascending from 1st position to 9th position:
then descends by repeating this pattern, descending from 9th position to 1st position:
watch him explain it here
Because trills and other longer passages are too hard to control for their duration, I took the overall TFCE pattern and broke it into two-beat cells that can be legato'd.
1e&a 2 (or "Takadimi Ta" if you prefer Takadimi rhythmic solfege) cells gets you:
||: 1212 3 (move up a fret) :||
||: 3212 3 (move up a fret) :||
||: 3432 1 (move up a fret) :||
||: 1234 1 (move up a fret) :||
||: 4343 2 (move down a fret) :||
||: 2343 2 (move down a fret) :||
||: 2123 4 (move down a fret) :||
||: 4321 4 (move down a fret) :||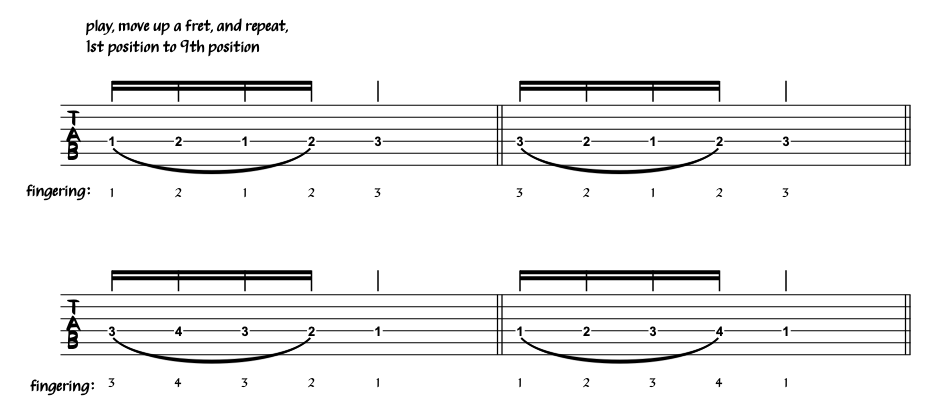 I'm playing this at 60 bpm, which means that each "cell" takes 2 seconds.
2 seconds x 8 cells x 9 positions = ~2.5m
My focus here is on getting each cell to sound musical:
in time,
uniform dynamics,
no extraneous noise,
with good feel
(Ever get a pizza delivered by a crazy driver, where the toppings have slid over to one side of the pie? That's what lousy feel sounds like—lumpy and tilted.)
Troy Grady: Start With Speed
After we've run the legato exercise at 60, we're *almost* ready to play it with every note picked. And while we're going to be nudging up the tempo on the picked version over time, thar be dragons there.
"Start slow, gradually speed up" is common wisdom. But it's wrong. This is because lots of things that work slowly don't scale up. Running isn't just sped-up walking.
And if we spend loads of time ingraining a bad motion, all our practice will have made us worse.
Which is why Troy Grady says that we need to "start with speed."
So before we play our example, we play sixteenths of a single note at 150.
This establishes what a proper motion feels like. Can you play this fast? Does the pick move through the string with the same ease on the downstroke as on the upstroke? It should feel effortless.
If it doesn't feel effortless, there's something not-quite-right here that you need to address. How do we address it? By experimenting. You're just trying slight variations until something clicks into place and you feel like the pick isn't getting caught on the string.
When you notice that you're doing it right, take inventory—we want to be able to return here.
Set the proper picking technique by speed testing before you move on to playing Tomo's (original) picking exercise.
Tomo Fujita: Picked Chromatic Exercise
Eventually we want to be able to play it cleanly above 120bpm, but for now let's do a leisurely 80 bpm.
Ascending 16th note pattern:
1212 3212 3432 1234
(move up a position and repeat)
positions 1-9
Descending 16th note pattern:
4343 2343 2123 4321
(move down a position and repeat)
positions 9-1
We already know that our picking hand can move plenty fast. Now we want to raise the speed that our fretting hand fingers can move at.
(This is the exception to the "don't try to gradually speed up" rule.)
We'll pick a tempo that's at the edge of our abilities, and play it up & down once each day. To avoid ingraining bad habits with our picking hand, we do the Troy Grady speed test beforehand.
But to avoid ingraining sloppy hand sync motions, we'll do something a little different…
Josh Waitzkin: Finish Strong
In a talk with Tim Ferriss, Josh Waitzkin brought up an interesting point: the last reps are the most important. Tonight, while you're asleep, those last reps are what your brain is going to internalize. Practice makes permanent.
hit play to listen to the 1m clip:
So after we've run your fingers hard & fast, trying to get them used to moving at a new top speed, we need to reinforce the clean, relaxed technique we want to ingrain.
So knock 20 bpm off the fast tempo and run it again.
To Recap
Legato Tomo Fujita Chromatic Exercise @ 60bpm
Troy Grady speed test
Picked Tomo Fujita Chromatic Exercise at this week's tempo
Picked Tomo Fujita Chromatic Exercise 20bpm below this week's tempo
Repeat daily (takes about 5m)
Reevaluate tempo for picked TFCE weekly—bump up 5bpm when the fast picked chromatic is clean and relaxed
Not clean & relaxed yet? —> Keep the same tempo for another week.
But Josh!
I can hear you saying: "how much good can five minutes of practice do me?"
But do the math: five minutes a day, spread out over a year, is THIRTY HOURS.
(5m x 365d)/60m = 30.42hr
Did you work on your hand sync for 30 hours last year?
Or your bends?
How about your time & feel?
Didn't think so.
What's Next: Organizing & Sustaining Daily Fundamentals Practice
The implications of this should excite you: we can make real, tangible progress with minimal investment.
And because five minutes is such a short amount of time, we tend to practice with greater focus. More focus, more progress.
The only caveat? We have to get the structure right.
Which is what I'll share with you next month at this time. 😉
See you then.