Hey Y'all,
Hope you're staying warm this week. We got lucky and left Austin just before the storm hit.
Here's this week's Riffs, Recs, Charts, & Smarts.
———
Riffs: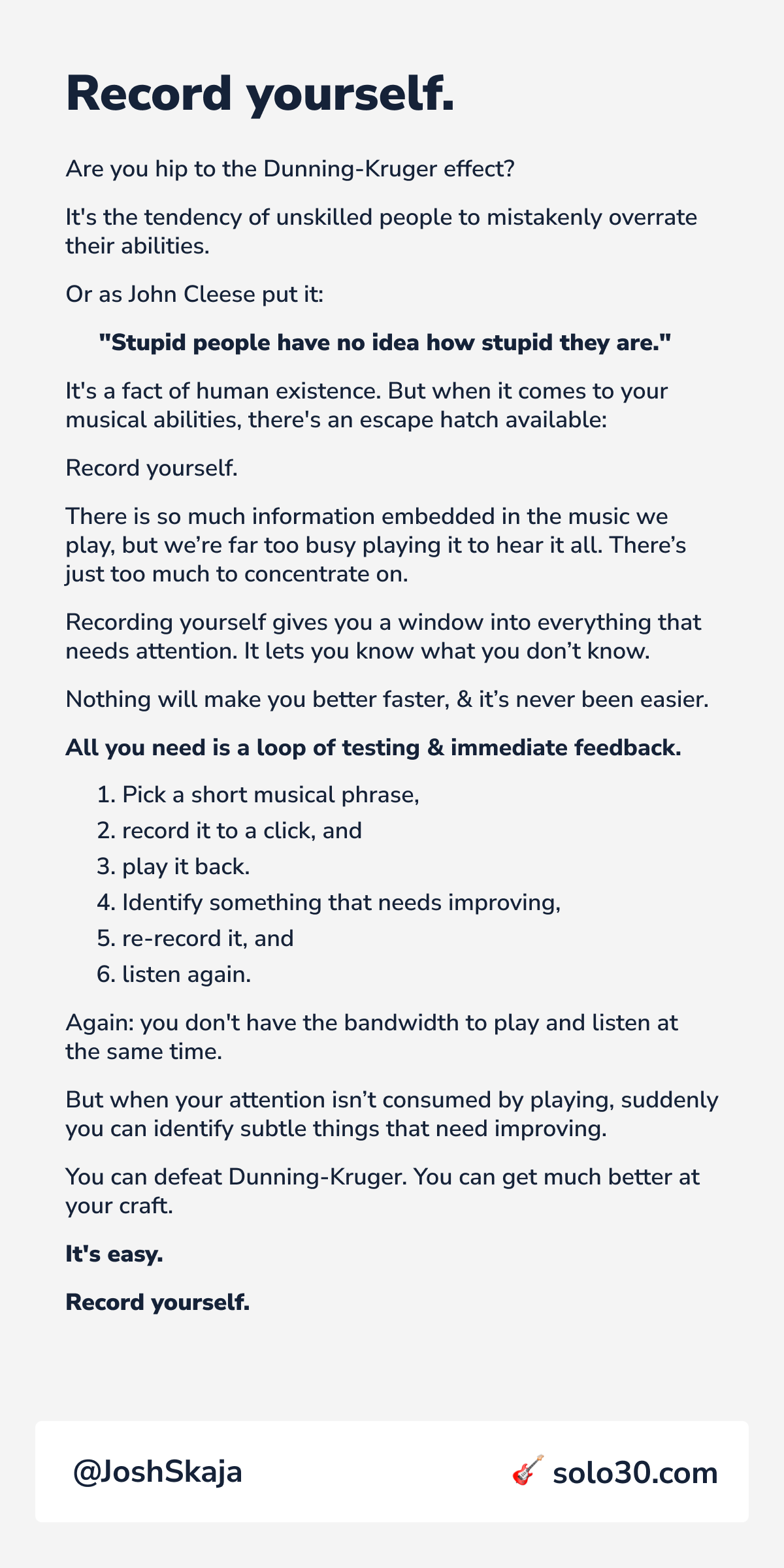 ———
Recs:
In this vid, Mary Spender asks Tomo Fujita, "what do you think people are missing when teaching themselves?"
His answers:
"mumbling"
not recording themselves
not creating limitations to practice around
Mumbling:
If you practice by jamming over endless backing tracks, your playing will lose clarity and narrative. There's no pressure to start strong, no pressure to develop an arc, and no need for a clear ending point. Is there some great stuff in the middle? For sure. But you "mumble."
Not recording yourself:
You can make dramatically faster progress by recording yourself and listening back. It's never been easier to record, but you have to review. It'll help you identify what needs fixing, but it'll also help you develop your own voice—to sound more like yourself.
Not creating limitations to practice around:
It's easy to think that with unlimited resources and creative freedom, we'd all be our best creative selves.
That's perfectly false: creation and limitation go hand in hand. Of course there's always the limitation of time, space, & money. But what other limitations are you intentionally creating for yourself?
only play these notes
only play on one string
only play in this position
only play the chord tones
approach every note chromatically
turn the reverb off so there's no place to hide
etc etc etc
———
Charts
Last year I made ridiculously detailed sheet music for Brandy (You're A Fine Girl).
Today I painstakingly converted that standard notation into TAB, just for you.
And screw it, why not: I also made a backing track. It's in three pieces:
Guitar 1
Guitar 2
Guitaraoke (the rest of the band minus guitar)
This'll help you learn the parts and let you jam with the band once you've got them down.
Just set your DAW's tempo to 126 and drag the mp3s in at bar 1. The TAB will correspond measure-for-measure with the audio in your DAW—which is really helpful. I like to loop short sections and work them up in isolation.
Grab all the files here.
———
Smarts
You see those chords with the "/" in them? E/B, E/G#, and A/B?
Those are "slash chords." You pronounce the "/" as "over":
"E over B"
"E over G sharp"
"A over B"
It means that in the bass there's a note that's not the chord's root.
It's usually a note from the chord itself:
E/B — the note B is in the E chord
E/G# — the note G# is also in the E chord
But the bass note can also be a note that's not in the chord:
A/B — the note B is not in the A chord
If you're playing solo, it's your job to cover that note.
If you're playing with a bassist, step aside and let them cover it.
———
See you next week!
-Josh